With Clean & Dirty Water Separated Device to Achieve Truly Free-Hand Washing
With Clean & Dirty Water Separated Device to Achieve Truly Free-Hand Washing
author: Emily
2023-07-05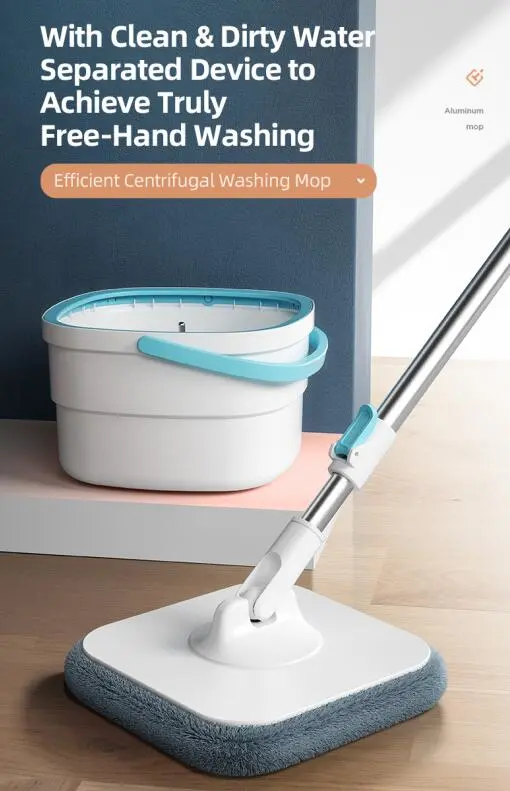 ?【2 Washable Pads】: Come with 2 mop pads in this spin mop set. Microfiber mop heads can help you better clean pet hair and more. 
?【Spin Mop Bucket System】: Our newly designed floor spinner mop and bucket set supports the self-separation of sewage and clean water, no worry about mix clean and dirty water together. All you need to do is inserting and pulling the mop, if you need a dry mop, you can speed up the rotation of the mop. The mop with separation of clean and sewage not only keeps your mop water clean all the time, but also reflects the concept of environmental protection and saves water more.
?【 Clean / Dirty Water Separation 】: Our flat spinner mop and bucket set supports self-washing and -wringing to keep your hands clean and dry. We adopt an innovative design, the mop is divided into an inner bucket and an outer bucket, when you clean the mop, press down, the brush on the inner bucket will discharge the sewage to the outer bucket, and the inner bucket is always the clean water.
?【 Rotating Mop Head & Retractable Handle】: Our spinner floor mop is equipped with square mop head, which can rotate 360°, making it easier to the corners of table, sofa, bed and other various places without moving. The length of the handle can be adjusted to easily adapt to different groups of people. Protect your waist and back during cleaning.
?【Various Usage Flat Floor Mop】: Our household flat floor mops for cleaning can perfect for all types of floors, such as marble, wooden floor, cement floor, ceramic tile, hardwood floor, concrete, etc. You can use our spinner floor mop to clean your kitchen, bathroom, living room, office, mall, and other places.
?【Easy Assemble & Storage】: All the required accessories are in the package, you just need to follow the steps of the manual to install the floor mop, very simple and convenient. Replacing the mop head is also very easy, just tear and stick. When you don't use the mop, just put it in the corner and no worry about taking up too much space.