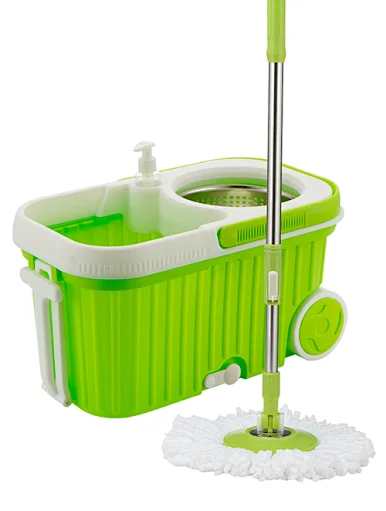 8L Mop and Bucket with Wringer Set
About this item :

【Suitable Capacity】With 8L, easy to carry and use. Middle size for several sapces.
【Excellent Material】Mop and bucket , basket and handle are all made of durable stainless steel.The telescopic handle can be adjusted up to 50.3 inches, flexible for different height.
【Professional Details】The built-in wringing basket has splash guard features, keep the water inside the bucket. With large capacity, reduce times of adding water.
【Different Cleaning Experience】It's easy moving while cleaning, it brings extra comfort for the disabled and those who cannot bear heavy weight. In addition, there has a drainage plug for draining water.

Material :PP,ABS,SS,Microfiber
Product Size :47*26.5*27CM
Color Box Size :47.5*30*28CM
Packing :1set/color box
G.W./N.W.: 2.85/2.25KG
20FT/40HQ:720/1727PCS
 
  


#microfiber spin mop,spin bucket mop




#microfiber spin mop,spin bucket mop

  


#microfiber spin mop,spin bucket mop #microfiber spin mop,spin bucket mop
About this item :  
【Suitable Capacity】With 8L, easy to carry and use. Middle size for several sapces.
【Excellent Material】Mop and bucket , basket and handle are all made of durable stainless steel.The telescopic handle can be adjusted up to 50.3 inches, flexible for different height.
【Professional Details】The built-in wringing basket has splash guard features, keep the water inside the bucket. With large capacity, reduce times of adding water.
【Different Cleaning Experience】It's easy moving while cleaning, it brings extra comfort for the disabled and those who cannot bear heavy weight. In addition, there has a drainage plug for draining water.  
Material :PP,ABS,SS,Microfiber
Product Size :47*26.5*27CM    
Color Box Size :47.5*30*28CM    
Packing :1set/color box 
G.W./N.W.: 2.85/2.25KG  
20FT/40HQ:720/1727PCS