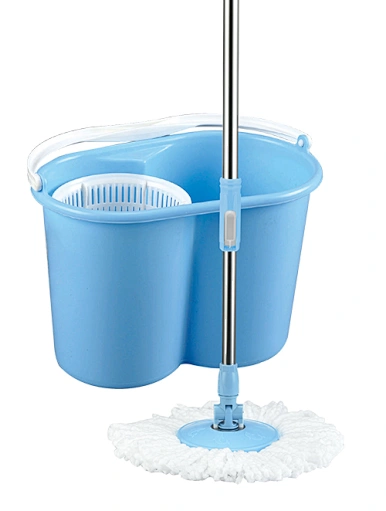 Original Hand Push Spin Mop
About this item :

【ORIGINAL INVENTOR】ORIGINAL INVENTOR of the hand pushed spin mop.
【UNLIKE OTHER SPIN MOPS】NO foot pedal, NO plastic spinning axis, NO other unnecessary moving parts to break or cause leaks. Mop head wrings 2X drier than foot pedal version. Sturdy, yet lightest bucket out of all spin mops makes it easier to fill and dump water.
【SELF-WRINGING MOP】SELF-WRINGING MOP that easily spins dry with a gentle push on the handle. Hands stay dry, no bending, and cuts cleaning time in half.
【SUPER ABSORBENT MICROFIBER】SUPER ABSORBENT MICROFIBER mop head dries floor instantly, and leaves no streaks.

Material :PP,ABS,SS,Microfiber
Product Size :43*28.5*29CM
Color Box Size :43.5*30*32CM
Packing :1set/color box
G.W./N.W.: 2.70/2.00KG
20FT/40HQ:695/1650PCS
  
  
  
  
  
  
 Multifunctional Spin Mop
Our Spin Mops are made to provide your household or workplace with streak free and squeaky clean floors!


#magic mop bucket,Original Mop Bucket #magic mop bucket,Original Mop Bucket

  


#magic mop bucket,Original Mop Bucket
About this item :  

【ORIGINAL INVENTOR】ORIGINAL INVENTOR of the hand pushed spin mop.
【UNLIKE OTHER SPIN MOPS】NO foot pedal, NO plastic spinning axis, NO other unnecessary moving parts to break or cause leaks. Mop head wrings 2X drier than foot pedal version. Sturdy, yet lightest bucket out of all spin mops makes it easier to fill and dump water.
【SELF-WRINGING MOP】SELF-WRINGING MOP that easily spins dry with a gentle push on the handle. Hands stay dry, no bending, and cuts cleaning time in half. 
【SUPER ABSORBENT MICROFIBER】SUPER ABSORBENT MICROFIBER mop head dries floor instantly, and leaves no streaks.