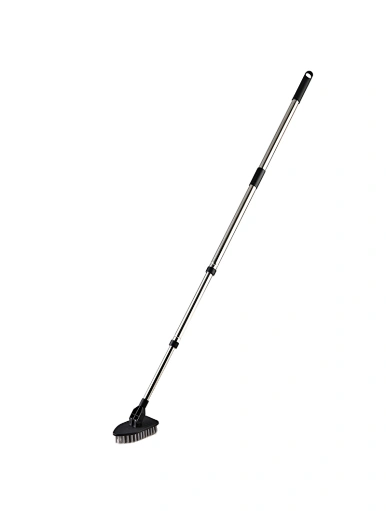 Tub & Tile Scrubber Brush
About this item :

【46" EXTENDABLE LONG HANDLE 】 Shower cleaning brush with long handle extends from 32"-46" with a quick twist without bending or climbing. You can just open the lock on the pole to adjust the length. Release your back, no more bending, stretching, kneeling or crouching.
【3 IN 1 REPLACEABLE BRUSH 】Tub & Tile Scrubber Brush is made by PP material and 304 Stainless Steel, sturdy and durable. The rods are tightened by threaded joints with locking, no need to worry about loosening that perfect for heavy duty dirts.
【 Effective, Easy & Save Effort 】long handled scrub brush for shower Replaceable Triangular Scrubber pad pivots for corner cleaning with ease, allows scrubber to get into corners. Thick sponge-like scouring pad retains water for scrubbing, highly deep cleaning while non-scratch.
【180° ROTATABLE DESIGN】 Swivel design makes it easy to clean soap scum instead of having to stand directly or bending over. More convenient for you when cleaning especially for those having back, knee issues
【The package includes 】 2 poles, 1 plate disk, 1 brush head, 3 scouring pads.

Material :PP ,SS,Scouring Cloth
Product Size :14*9.5*116CM
Color Box Size :13.5*5.5*42.5CM
Packing :1set/color box ,30PCS/CTN
Carton Size: 57.5*43.5*43CM
G.W./N.W.: 14.0/12.8KG
20FT/40HQ:7740/19380PCS
Great Tub & Tile Scrubber Brush
 Brush head double-layers design ,made of sponge and scouring pad ,soft enough to protect the floor ,cleaning the floor easily
Multi-Cleanging Bunctions

shower cleaning brush with long handle is equipped with a sturdy bristle brush head and 3pcs  cleaning scouring pads.

46"Extendable long Handle 

Please note that each extension needs to be rotated clockwise to lock and fix it.

46"adjustable lightweighn Detachable 
Long handled scrub brush for shower easy to reach to clean tiles, bathtubs, hardwood floors, glass, walls, ceilings, etc.

Sturdy & Reliable Design

Tje long handled scrub brush for shower for cleaning is made with high-quality materials that are built to last, providing you the best value.

Convenient & Easy to Use

The four multipurpose attachments are designed to fit perfectly in place with the brush head and switching between them is quick and easy, ensuring a hassle-free cleaning experience.
             

Stiff Bristle

The sturdy bristles are made of high quality PP material and are not easy to fall off. reat for cleaning hard to reach spots, dirt and grime in the shower, bathroom, kitchen corners with ease.

Thick & rigid scouring pad 

Great for cleaning glass surface like windows and getting rid of the dreaded water marks! Getting all of the soap and limescale residue off.